We truly love traveling in our Mazda5. It has some great features and it has handled great in all types of conditions. However, it is definitely a compact minivan and space is becomes very tight when we pack in 5 people, 3 car seats, and all of our possessions. Our hitch platform can only hold so much so we have to be really smart about what we bring with us. After many hours of Internet research and trial and error we have finally come up with a list of products that help maximize our space in the Mazda5 and at the same time perform very well when we are out on the road.
Bedding – In the past sleeping bags and air mattresses for our entire family could single-handedly fill up the available cargo space in our van. So, before hitting the road this time we invested in lightweight and compact models that have proven to be worth every penny.

Therm-a-Rest® Tech Blanket – We exclusively used these amazing blankets on our Route 1 trip. They work great in warmer temperatures and can also be added to a sleeping bag for a little bit more warmth on chilly nights. We love that they stuff into their own zippered pouch which makes them great pillows.

Mountain Hardware Sleeping Bags – We were looking for light weight and compact sleeping bags and finally found them in Mountain Hardware's Mountain Goat Adjustable and UltraLamina 32. Both of these bags pack small enough to fit inside our suitcases.

NeoAir Trekker – The NeoAir Trekker is by far the best camping mattresses that we have ever used! It packs down to about the size of a water bottle but provides so much comfort that we often prefer sleeping on them over regular beds when staying in rentals or hotels.

Towels – Have you ever looked at the amount of space that a stack of bath and beach towels takes up? Instead of finding room for standard towels we purchased a PackTowl for each of us. They practically fit in your pocket and they dry super quick so we don't have to deal with wet, soggy towels when camping.

Camping Stove – Before we had kids we tried out a few different camping stoves. However, once we started camping with the kids we knew we needed a compact stove that we didn't have to worry about tipping over onto one of our active little guys. We were super excited to discover the Coleman Powerpack 1-Burner Stove. It is super sturdy, it packs down small, and it cleans up in a breeze.

Electric Stove – We never know how the kitchens of our rentals will be equipped. Some have every pot and pan imaginable while in others we can barely find a pot to boil water in. Therefore, we did our research and settled on the Presto 16 inch Electric Skillet with Removable Handles. This appliance is truly a wonder. We've cooked pasta, fried rice, stewed soups and made pancakes on its non-stick surface.The removable handles mean it packs tightly into our storage bin, and it makes cooking while camping a breeze if we are at a site with electric.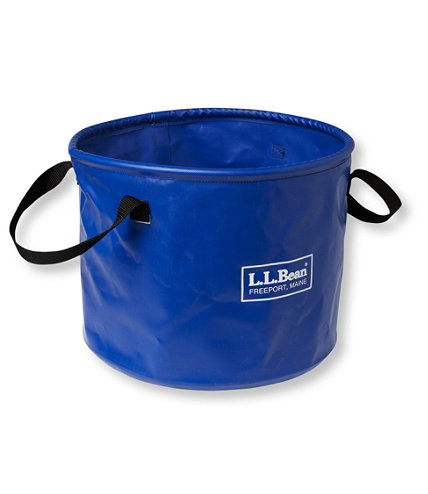 Packable Sink- Washing dishes can be quite a chore while camping. Unless we are at a campground with a dish sink (the hallmark of a quality establishment, in our opinion), lugging clean water in and the dish water out is a pain. The LL Bean Packable Sink makes things a little easier and folds up to take almost no space at all. It also works great for totting around wet items, and can even be used to bathe a small child in a pinch 🙂

Dromedary Bags– Like its cousin the dish sink, our 10 Liter Dromedary Bag makes those extra trips to the campground tap unnecessary. We fill it when we arrive at a campsite and the large capacity meets our water needs for washing and filling water bottles for a day or so. We upgraded to the Spigot Cap which allows the kids to easily fill their own water bottles and wash their hands.